Free Vehicle Cloning Ebook
FREE EBOOK FOR YOU TO DOWNLOAD TO COMBAT VEHICLE AND PERSONAL IDENTITY THEFT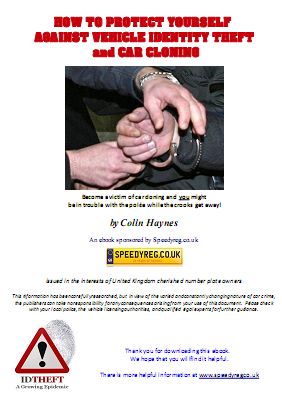 Vehicle cloning is an increasingly serious problem for thousands of British motorists.

The situation is being aggravated by the economic situation, which is providing the "ringers" with added incentives to commit drive-away fuel theft and dodge traffic fines and congestion charges.

At the same time, the public service cut-backs and the increasing use of number plate recognition camera systems put more pressure on strained resources to maintain equipment and computerised databases. Errors inevitably occur and the victims may not know they have been targeted until fines and penalty notices arrive.

Even worse is when a vehicle is cloned ahead of a serious crime, such as armed robbery. Then the innocent legal owner of the registration may become the prime suspect in a criminal investigation.

A distinctive cherished number does provide some protection - crooks prefer anonymous unremarkable plates for obvious reasons.

Speedyreg also provides - without charge - special antitheft screws to all clients.

And if clients do experience cloning problems, then we will continue to try to help by using our database of nearly 35 million vehicles and our extensive paper records.

We also commissioned one of the UK's most experienced motoring writers to compile this downloadable ebook, packed with practical information on the twin problems of vehicle and personal identity theft. It has many facts, advice and links to help you prevent your vehicle or yourself becoming a victim of cloning - and what steps to take immediately if anything does go wrong.