Affiliates
Welcome to the SpeedyReg.co.uk Partnership programme.
If you have a website, a business, or a social group such as a sports club, you can regularly earn hundreds of pounds by introducing your clients to the fascinating activity of owning cherished UK vehicle registration numbers. It is an ideal money earner if your website or other activity involves contact with people who are...

sports or motoring enthusiasts
buying wedding or other commemorative gifts
taking delivery of new or used cars or motorbikes
members of a club or other social group
....and many others

Our Partnership concept is similar to affiliate programmes, but a much more efficient and fruitful business relationship. It works like this:

The visitors to your website, your customers or club members might be interested in purchasing a cherished or personalised number plate for themselves, or perhaps as a gift to mark a special occasion.

You refer them - probably through an automatic link from your website, to a dedicated link through to our website. The fact that you have introduced this potential client to us is logged and if he or she goes on to make a purchase you are credited with a 10% commission (from our profit) for introducing them. That could be several hundred pounds if they buy a higher priced number, or £15 for a registration at £150 profit, for example. i.e. If a number is sold for £1,000+VAT and transfer fee and we are selling on behalf of a client and returning them £800, we would make £200 gross profit. We would then return you £20 once the order is completed and fully transferred.

There is no risk at all to you or the clients that you refer to us. Any visitor that comes to our site from your referral link, is tracked and we get a weekly report of referral orders. Some orders can take a few weeks to process but as soon as we are in a position to pay your referral fee, we will be in touch for bank details.

Our database covers the best selection among nearly 50 million UK registration numbers and our service and reputation are second to none. Indeed, after over 30 years in the business we are the top choice to supply other British dealers. We are registered with the DVLA - and we belong to all the official dealer bodies including the Retail Motor Industry's Cherished Numbers Dealers Association, and the CNG (Cherished Numbers Guild) with their strict code of conduct.

We are the only major dealer to offer free credit facilities - so your clients are never at risk as they might be when buying from unauthorised sources online.
How can you qualify to be a Speedyreg Partner?

It is a very easy process.

If you are a reliable website operation, business or organisation catering mainly for a British clientele, just register or login and place a link on your website through to our system using the special affiliate code created just for you. Your incoming link will be tracked and if the customer places an order online, the transaction will be logged down to your affiliate record.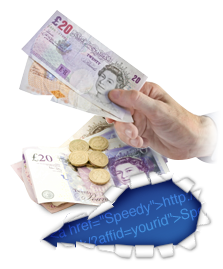 Get In Touch