DVLA Number Plate Auctions
The DVLA hold five Live Auctions each year and four Timed Auctions. The DVLA's Live Number Plate Auctions are held at various venues throughout the UK mainland.
Why Buy a Number Plate from a DVLA Auction
There are two types of DVLA Auction - Timed Auctions and Live Auctions - each with their own benefits.
Timed Auctions allow bidders the chance to snap up a cheap DVLA number plate, while Live Auctions are typically held to sell high end number plates which are most in demand. As a result, auctions can be a way to grab a bargain or they may be the only way to get your hands on the most sought after premium DVLA number plates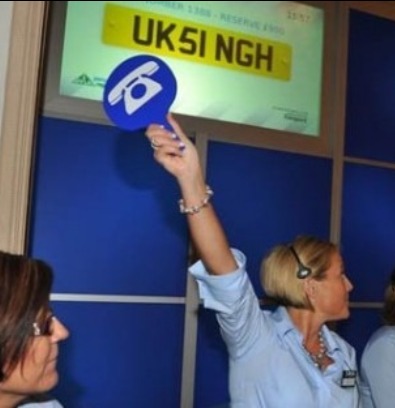 Speedy Reg Can Help - DVLA Auction Bidding Service
Speedy Reg offer a bespoke bidding service - for £200 plus VAT, we will bid on your behalf.
We have 35 years' Professional Service of Bidding at DVLA Auctions so you can take advantage of that experience and our expert advice to ensure you pay a realistic price at auction, having helped hundreds of clients over the years successfully purchase their dream DVLA Registration
What do I Pay if I Buy a Number Plate at a DVLA Auction?
Hammer Price
VAT on Hammer Price 20%
DVLA Buyers Premium, currently 8%
VAT on Buyers Premium
Assignment fee currently £80
Example Costs for DVLA Number Plate Auctions
Speedy Reg's Guide Price £4,000

1

Hammer Price

£4,000

2

VAT on Hammer Price

£800

3

Buyer's Premium

£300

4

VAT on Buyer Premium

£60

5

DVLA assignment fee

£80

6

TOTAL

£5,480
Speedy Reg's Guide Price £2000

1

Hammer Price

£2,000

2

VAT on Hammer Price

£400

3

Buyer's Premium

£150

4

VAT on Buyer Premium

£30

5

DVLA assignment fee

£80

6

TOTAL

£2,900
Warning! Avoid Overpaying at DVLA Auctions
Buyers Beware, some dealers will try and pre-sell you DVLA Auction plates at exorbitant prices many months in advance of an Auction.
What you get at Speedy Reg is a straightforward reliable service. We will even telephone you from the Auction as your lot is being sold. Our experience and success is unrivalled within the number plate industry, check out our Trustpilot Reviews
We require immediate payment after any successful bids; the DVLA will then issue the DVLA V750 certificate within 14 days. Speedy Reg can then make an immediate online assignment or supply your registration number plate on a DVLA Retention Certificate valid for 10 years.
If we are unsuccessful in your purchase, we will refund £150 plus VAT of your Bidding Fee, holding a £50 plus VAT Administration Fee
The previous auction on Jan 8, 2021 has now finished. When the next one is scheduled we will update the details here

Number Plates Available at Upcoming DVLA Auction
If you'd like to avail of our DVLA Auction Bidding Service, please get in touch via 02866 387124 or use our contact form. Otherwise feel free to check out the range of DVLA Number Plates you can buy online now.