Importing Southern Irish Vehicles into the UK
Do you need to import your Eire vehicle into the UK, or bring it over the border into Northern Ireland ?
UNSURE OF WHAT TO DO ? WE CAN HELP!
If you're looking to import a vehicle from Southern Ireland to the UK, there's quite a lot you need to know to make sure everything goes smoothly and speedily. It can be a little overwhelming but don't panic! We're here to help. Just Get In Touch for more information, or, if you've already spoken to us or are ready to go ahead, you can opt to buy our transfer administration service for just £100+VAT and we'll do it for you.
Simply click Buy Now and provide your details and we can speak to you about your specific requirements and handle the transfer for you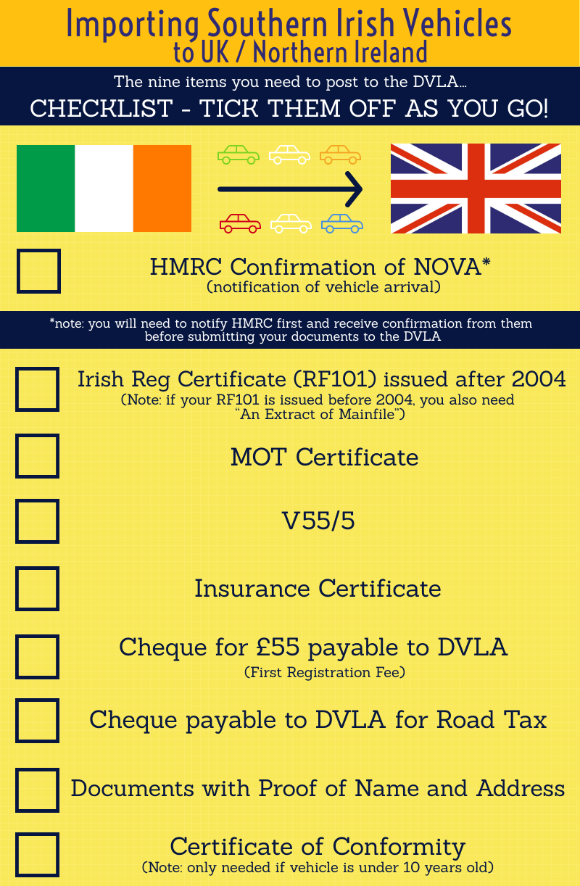 Note: If your vehicle is coming over from another part of the world - France, Spain, Japan etc, then go to our
overseas importing
page
Denis Feiler just left a new 5-star review of Speedy Registrations Co Ltd:

In the lockdown period, I was importing a car from Donegal to Coleraine. I used Speedy Reg, and they were absolutely excellent. The process took a long time, but not on this companies part. They were supportive, and fast. It was everyone else involved in the process that was slow. They gave me good advice, and anytime I e-mailed, I got an almost instant reply. I would recommend them to anyone. Car now registered and we are grateful for their work.
See the review on our profile page: https://uk.trustpilot.com/reviews/60815295f9f48709006961e5