Figaro Car Number Plates
The Figaro was introduced at the 1989 Tokyo Motor Show under the slogan "Back to the Future". A Nissan special projects group called Pike Factory, who also produced other niche automobiles such as the Be-1, Pao and S-Cargo, built it. Only four colours were available: Topaz Mist, Emerald Green, Pale Aqua and Lapis Grey. Each colour symbolised a season of the year. When the car was launched, topaz mist was the least popular colour. There were only 2,000 produced in Topaz mist hence they have become increasingly rare.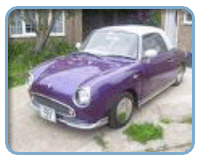 The Figaro is Nissan's classic concept car. It has a 1960s retro style body with matching interior instruments and radio, but with an injection of 90s specification including power steering, power windows, full air conditioning, CD player, automatic gearbox coupled to Nissan 1.0 litre TURBO engine. This car is guaranteed to turn heads wherever if goes. It was designed by Shoji Takahashi, who won a design competition with the car.
Only 8,000 were originally available with an additional 12,000 added to production numbers to meet demand. Prospective purchasers had to enter a lottery to be able to buy one of these cars. Limited edition cars came with passenger side baskets and cup holders. These now fetch hundreds on Internet auction sites.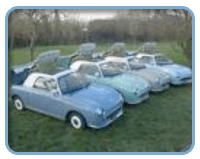 The Figaro is already a well sought after classic in Europe and Japan. Only 20,000 were manufactured in 1991. Today this car has a cult following which will ensure its gain in value over time.
The following Celebrities are now proud owners of Figaros:
Joss Stone
Fergal Lawler
Jonathon Ross
Vanessa Feltz
Eric Clapton
Athina Roussel
Frank Skinner
Chris Rea
Michael Corkery
Nancey Sorrell
Fran Healy

In The Sarah Jane Adventures, Sarah Jane Smith drives a green Figaro, which was also featured in the finale of the fourth series of Doctor Who.
Why not set your new Figaro car out from the rest with a FIG registration ? We can offer you the following FIG registrations:
Dateless Registrations
Dateless registrations can go onto any vehicle, regardless of its age - whether a brand new one, just off the showroom floor or a 40 year old vehicle. This makes them ideal personalised registrations and Northern Ireland is the major source in the UK for low cost dateless registrations. We keep over 6,000 vehicles in stock, along with over 10,000 held on DVLA Retention Certificates for immediate transfer, so SpeedyReg is the largest supplier of dateless registrations straight from stock. Dateless registrations are built up of between 1 and 3 letters and between 1 and 4 numbers. The shorter the plate, the more prized it is.
| Pos'n | Reg. | Price | All Incl | Information | Action |
| --- | --- | --- | --- | --- | --- |